This dish always gives me a satisfying feeling every time I eat it. It has beef and tacos! Who wouldn't like that? I learned about this recipe about 2 months ago when my sister visited me. She told me that she had found the food that has beef in it and that I would definitely love beef after eating it. Yes, I wasn't always a fan of beef. So, no occasional beef steak for me and burgers too! But after eating this recipe of taco, everything changed. My sister was right. It became my favorite. I don't know but it has a nice appeal to it. I know there are a lot of recipes that has beef in it, but for now, I will settle for this Pillsbury's Crescent Roll Taco Bake!
INGREDIENTS:
2 crescent roll tubes
1 pound ground beef (or ground turkey)
1 packet of taco seasoning
1 1/2 cups grated cheddar cheese
Shredded lettuce
1 or 2 diced tomatoes depending on size
1/2 small can sliced olives if desired
Sour cream optional
sliced avocado optional
How to make Pillsbury's Crescent Roll Taco Bake
Step 1: Roll the sides of the crescent pastry in and lay it out. Set aside the leftovers.
Step 2: Get the leftover rolls and put them in the middle to make it thicker.
Step 3: Place a skillet on the stove and turn the heat to medium. Put the beef and cook until it turns color brown then add the taco seasoning.
Step 4: Transfer the cooked beef into the middle of the crescent rolls.
Step 5: Spread cheese on top of the beef.
Step 6: Get the sides of the rolls and tuck it in beneath the beef and cheese.
Step 7: Add whatever you want in your tacos. Tomato, cheese, sour cream, lettuce or anything. Place it in the center of the tacos.
Step 8: Refer to the instructions provided on the cover of the crescent rolls to cook.
Step 9: Serve and enjoy!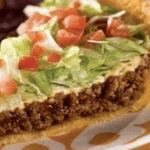 Ingredients
2 crescent roll tubes

1 pound ground beef (or ground turkey)

1 packet of taco seasoning

1 1/2 cups grated cheddar cheese

Shredded lettuce

1 or 2 diced tomatoes depending on size

1/2 small can sliced olives if desired

Sour cream optional

sliced avocado optional