A very refreshing treat for hot weather. Yesterday I was craving for something cold and sweet. At first, I thought about eating ice cream but I remembered this recipe. It was on TV the other night and it was a good thing that I was able to write down all the ingredients. As to the steps, I kind of did it myself. The idea is pretty easy so you will get it immediately. For quick and easy procedures though, you can just follow these steps that I have provided for you. Make it today! Your dessert is gonna be amazing tonight! By the way, you can add your preferred additional ingredients. For example, try adding fresh and sweet mangoes. It really gives a different yet amazing twist to this dessert. Enjoy!
INGREDIENTS
1 (3 ounces) package lemon Jell-O
1 cup boiling water
8 ounces cream cheese
1 cup granulated sugar
5 tablespoons lemon juice
1 can Carnation evaporated milk, well chilled
Graham crackers, crushed
How to make The Famous "Woolworth" Ice Box Cheesecake
Step 1: Place a medium round casserole on the stove and pour water then bring to boil.
Step 2: Add the Jell-O and dissolve in the boiling water then turn the heat to low until the texture becomes thick.
Step 3: In a medium bowl, combine lemon juice, cheese, and sugar. Beat until well-mixed and smooth.
Step 4: Add in the cooked Jell-O into the cream cheese mixture and beat until well-mixed.
Step 5: Pour the Carnation milk in a large bowl and beat until it becomes fluffy.
Step 6: Add the Jell-O mixture and cream cheese mixture into the large bowl with the Carnation milk. Mix until well-blended.
Step 7: In a 9×13 pan, add crushed Graham crackers and line on the bottom part of the pan.
Step 8: Add all the ingredients into the pan and spread crushed Graham crackers on top.
Step 9: Refrigerate for at least 1 hour. Serve and Enjoy!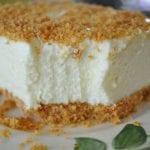 Ingredients
1 (3 ounces) package lemon Jell-O

1 cup boiling water

8 ounces cream cheese

1 cup granulated sugar

5 tablespoons lemon juice

1 can Carnation evaporated milk, well chilled

Graham crackers, crushed