PREP TIME: 15 MINS | COOK TIME: 50 MINS | TOTAL TIME: 1 HR 5 MINS | SERVES: 12
I enjoy this bread always! It's a crossover between moist carrot cake and banana bread. My family's most favourite bread with a luscious cinnamon cream cheese frosting that is to die for!
Ingredients
Dry Ingredients:
1 tsp cinnamon
1/2 c. quick oats
1 tsp baking soda
¼ tsp nutmeg
1/4 tsp salt
1 1/2 c. whole wheat pastry flour (or white whole wheat flour)
Wet ingredients:
2 tbsp melted and cooled coconut oil (any oil or melted butter/vegan butter will work)
2 medium very ripe bananas, mashed (¾ c. mashed banana)
1 large egg
1 tsp vanilla
1/2 c. coconut sugar (or brown sugar)
1/4 c. unsweetened applesauce
1/3 c. almond or coconut milk
1/3 c. chopped pecans or walnuts, plus 2 tbsp for topping
1 heaping c. shredded carrots (about 2 large carrots)
Optional add-ins:
1/2 c. unsweetened shredded coconut
1/2 c. raisins
Frosting:
1/4 tsp cinnamon
1/3 c. powdered sugar
1/2 tsp vanilla extract
4 ounces cream cheese, softened (reduced fat if you'd like)
How to make Healthier Carrot Cake Banana Bread with Cinnamon Cream Cheese Frosting
Step 1: Prepare the oven. Preheat it to 350 degrees F. Using nonstick cooking spray, grease an 8 1/2 x 4 1/2 inch loaf pan.
Step 2: Combine the whole wheat pastry flour, quick oats, baking soda, cinnamon, nutmeg, and salt in a large bowl and set aside.
Step 3: Place the mashed banana, coconut sugar, egg, and vanilla in a medium bowl until well mixed and creamy. Add the applesauce followed by the almond milk. Fold in the carrots.
Step 4: To the dry ingredients, add the wet and whisk until just combined. Make sure not to overmix the mixture. Lastly, fold in the melted coconut oil very gently and add 1/4 cup chopped walnuts or pecans.
Step 5: Pour the mixture into the prepared loaf pan. Place in the preheated oven and bake the bread for about 40 to 55 minutes or until a toothpick inserted in the middle of the loaf comes out clean.
Step 6: Transfer the loaf pan to a wire rack and leave the bread to cool for about 15 minutes before removing it from the pan. Allow the loaf to finish cooling on the wire rack.
Step 7: For the cinnamon cream cheese frosting, beat the cream cheese with the powdered sugar, vanilla, and cinnamon for about a minute on medium speed until smooth. Spread this on the cooled bread and sprinkle with 2 tbsp chopped walnuts and pecans.
Step 8: Slice the bread into 10 to 12 pieces. Serve and enjoy!
Notes:
You can use a combination of 3/4 c. all-purpose flour with 3/4 c. whole wheat flour in place of the whole wheat pastry flour.
You can easily make this vegan by using dairy-free cream cheese and a flax egg in place of a regular egg.
Use 1:1 gluten-free all-purpose flour for a gluten-free version.
Adjust the baking time if making this into cupcakes or muffins. Make sure to check in between 15 to 18 minutes of baking.
Make the bread a day or two in advance. Simply wrap it in plastic wrap to seal in the moisture. Defrost before serving.
Be as creative and add your favourite add-ins like shredded coconut flakes, raisins, walnuts instead of pecans, or pineapple.
Nutrition Facts:
Servings: 12 slices, Serving size: 1 slice
Calories: 210kcal, Fat: 7.5g, Saturated fat: 3.7g, Carbohydrates: 33.2g, Fiber: 4.6g, Sugar: 14.9g, Protein: 4.3g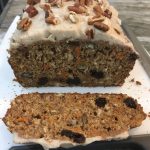 Ingredients
Dry Ingredients:

1 tsp cinnamon

1/2 c. quick oats

1 tsp baking soda

¼ tsp nutmeg

1/4 tsp salt

1 1/2 c. whole wheat pastry flour (or white whole wheat flour)

Wet ingredients:

2 tbsp melted and cooled coconut oil (any oil or melted butter/vegan butter will work)

2 medium very ripe bananas, mashed (¾ c. mashed banana)

1 large egg

1 tsp vanilla

1/2 c. coconut sugar (or brown sugar)

1/4 c. unsweetened applesauce

1/3 c. almond or coconut milk

1/3 c. chopped pecans or walnuts, plus 2 tbsp for topping

1 heaping c. shredded carrots (about 2 large carrots)

Optional add-ins:

1/2 c. unsweetened shredded coconut

1/2 c. raisins

Frosting:

1/4 tsp cinnamon

1/3 c. powdered sugar

1/2 tsp vanilla extract

4 ounces cream cheese, softened (reduced fat if you'd like)