This is a simple and quick recipe. It competes with your local restaurant and is easy to make and extremely DELICIOUS! Don't worry too much about using the exact amount of cookie dough described in the recipe. I might try to just make the cookie dough by myself the next time rather than getting the store-bought cookie dough. With these ingredients, it's hard to mess up.
Please PIN THIS RECIPE TO any Relevant boards on your Pinterest (Breakfast, Dessert, etc…) To SAVE it for later…
Prep: 15 mins Cook: 30 mins Total: 1 hr 15 mins Additional: 30 mins Servings: 12 Yield: 1 9×13-inch baking pan
Ingredients
1-3/4 cups crushed chocolate chip cookies or chocolate wafer crumbs
1/4 cup sugar
1/3 cup butter, melted
FILLING:
3 packages (8 ounces each) cream cheese, softened
1 cup sugar
1 cup sour cream
1/2 teaspoon vanilla extract
3 large eggs, room temperature, lightly beaten
COOKIE DOUGH:
1/4 cup butter, softened
1/4 cup sugar
1/4 cup packed brown sugar
1 tablespoon water
1 teaspoon vanilla extract
1/2 cup all-purpose flour
1-1/2 cups miniature semisweet chocolate chips, divided
Directions
In a small bowl, mix cookie crumb and sugar. Then, stir in the butter and press onto the bottom. and 1 in. up the sides of the greased 9-in springform pan. Now, place the pan on a baking sheet and set aside.
In a large bowl, beat the cream cheese and sugar until it's smoothed. Beat in the sour cream and vanilla. Add in the eggs; beat on low speed until fully combined. Pour over crust and set aside.
In another bowl, cream the butter and sugars until light and fluffy. Add water and vanilla. Lightly add flour and mix very well. Stir in 1 cup of chocolate chips.
Drop dough by teaspoonsful over the filling and gently push dough below the surface (note: the dough should be completely covered by filling). Place pan on a baking sheet.
Bake at 350 degrees for 50 minutes until the center is almost set. Cook on a wire rack for 10 – 15 minutes and carefully run a knife around the edges of the pan to loosen; cool 1 hour longer. Refrigerate overnight.
Remove sides of the pan. Sprinkle with remaining chips. Refrigerate leftovers.
Nutrition Facts
Per Serving: 654 calories; 36.8 g total fat; 93 mg cholesterol; 404 mg sodium. 74.4 g carbohydrates; 7 g protein;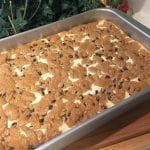 Ingredients
2 (8 ounce) packages cream cheese, softened

1 cup white sugar

2 eggs

2 teaspoons vanilla extract

2 (18 ounce) packages chocolate chip cookie dough
Instructions
Preheat oven to 350 degrees F (175 degrees C).
Blend cream cheddar, sugar, eggs, and vanilla together in a bowl until smooth and very much mixed.
Spread the cookie dough on the base of a 9x13-inch heating pan to frame the base. Spread cream cheddar blend on top. Squeeze off little bits of the rest of the cookie dough and circulate them on the cream cheddar blend.
Prepare in the preheated stove until cream cheddar blend is set and cookies on top are brilliant brown colored, 30 to 45 minutes. Let it cool before serving, around 30 minutes.
Notes
Per Serving: 654 calories; 36.8 g total fat; 93 mg cholesterol; 404 mg sodium. 74.4 g carbohydrates; 7 g protein